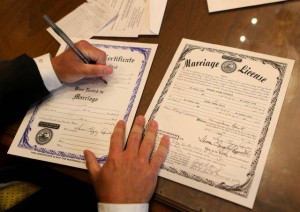 JEFFERSON CITY, Mo – A Jefferson City Attorney has been sentenced after being found guilty of a marriage fraud conspiracy.
A case pursued by the U.S. Justice Department involved James Douglas Barding, 63, an attorney from Jefferson City who was convicted of enlisting a U.S. citizen to marry a Ukrainian national, with whom he was having an affair.  Barding was already married at the time.  The scheme was to marry Darya Chernova, 41, to a U.S. citizen so she could remain in the country.
Chernova entered the U.S. on a student visa, before her affair with Barding, and eventually obtained a master's degree in mechanical and space engineering from the University of Missouri in 2011.
Chernova had to make false statements regarding her address and billing information to maintain the ruse, and evade immigration laws.  Barding, with whom Chernova has had two children, planned to divorce his wife after Chernova could maintain legal U.S. residency.
Barding was sentenced to one month in prison and one year supervised release, in addition to a fine of $3,000.
Chernova was also sentenced to three years probation, with a $1,000 fine.