An Odessa resident, 85-year-old JoAnn (Ellison) Tye died Thursday, Feb. 20.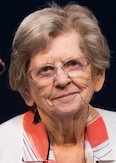 Visitation is from 11-12 p.m. Feb. 24 at Ralph O. Jones Funeral Home in Odessa. Graveside services follow in Odessa Cemetery. Memorials are suggested to the American Alzheimer's Association.
JoAnn was born on October 2, 1934 in Moniteau County, Missouri to James and Lolita (Davis) Ellison. After graduating high school, JoAnn was united in marriage to Loyd Singer on January 1, 1954. He preceded her in death on January 23, 1982. On July 14, 1989 JoAnn married Donald Roy Tye. They enjoyed over 30 years of marriage. JoAnn worked as a clerk at Thriftway Grocery Store and was a member of the Long Branch Baptist Church in Odessa.
In addition to spending time with friends and family, JoAnn enjoyed gardening. In addition to her husband, Donald, survivors include four children, Danny Singer and companion Joy of Odessa, MO, Kathy Hershberger and husband Richard of Orrick, MO, Terry Singer and wife Lisa of Odessa, MO, and Tim Singer and wife Crystal of Odessa, MO; two stepchildren, Clint Tye and wife Pam of Blue Springs, MO, and Tracy Wren and husband Brett of Grain Valley, MO; two brothers, Charles Ellison of Otterville, MO and Russell Ellison of Manchester, MO; one sister, Carol Sue Lurten and husband Orbie of Prairie Home, MO; she is also survived by a granddaughter, Amoriah Blackston and husband Colton, along with many other grandchildren, nieces and nephews. In addition to her parents and first husband, JoAnn was preceded in death by one sister and four brothers.