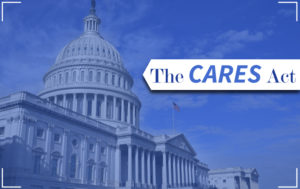 WARRENSBURG — Schools need technology for the possibility of virtual learning during the coronavirus pandemic. Johnson County Commission is offering a "quick, special round" for its 7 school districts and 2 private schools to apply for CARES Act funding for computers, software and other related technology for virtual learning.
"That technology has to be delivered and paid for by the end of the act, which is Dec. 30. They were kind of being left out inadvertently, so that's why we're doing this quick, very special round for technology," Johnson County Treasurer Heather Reynolds told KMZU.
Under county guidelines, districts and private schools are responsible for only one-tenth the cost of items and IT personnel expenses — if not previously budgeted, according to Johnson County Presiding Commissioner Bill Gabel.
"Quality education is a top priority in Johnson County. My fellow commissioners and I feel strongly about using the county CARES Act funds to assist the schools, students, and families of Johnson County. By having increased technology capabilities, we can really make an impact in education and public health during this difficult time and allow students to transition to virtual education, should that need arise," Gabel says.
Schools can apply as early as Monday, Aug. 17. The commission promises a quick process, notifying entities no later than Sept. 1. Schools must enter into an agreement with the county prior to receiving funds. The link to apply can be found here.
Johnson County was awarded $6.3 million in federal funding, of which $800,000 has been allocated for Covid-related reimbursements. Reynolds say a Round 2 of funding is a "definite" and "possibly a Round 3, if money is still available."