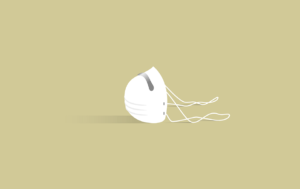 WARRENSBURG — The Johnson County Commission has elected to not endorse the countywide face coverings order.
Johnson County Community Health Services learned of the commission's decision earlier this week and has expressed disappointment. JCCHS Outreach Coordinator Kerri Lewis says that although the commissioners did not cosign it, the reinstated order will continue.
"Although the commissioners didn't feel they were ready to endorse it," Lewis says, "it is still an active face coverings order, which means it is required for anyone going into public locations to wear a face covering or mask. We are going to continue to encourage folks to do that so we can keep mitigating the risk or slow the spread."
Lewis says the order continues to have the support of other local entities, such as Whiteman Air Force Base, the University of Central Missouri and local school districts.
Although she isn't completely sure why the commissioners voted the way they did, Lewis thinks a language issue along with concern of enforcement played a part.
"One thing I had heard was there were some concerns with the potential of enforcement," Lewis says. "They didn't want to cause any extra work on our law enforcement to have to respond to those situations. Although it is an enforceable order, the enforcement piece is strictly required by law anytime we implement a public health order. We are required to put that language in the order that states enforcement included in this order based on Missouri statutes."
As they are not in session on Friday when the interviews were conducted, KMZU was not able to get a comment from any of the Johnson County Commissioners.
Commissioners Charlie Cavanaugh and John Marr have previously had reservations about the face coverings order before it was phased out and replaced with a public health advisory in September. According to previous KMZU reporting, when the board meeting was held that extended the original order through Sept. 13, Marr and Cavanaugh expressed concerns on how it was affecting local businesses. On Oct. 12, the Johnson County Community Health Services Board of Trustees voted to reinstate the mask order after observing an over 100% increase in positive COVID-19 cases.
Lewis says that since the reinstatement of the order, Johnson County is sitting at 284 active cases. A report from when the order was not in place shown there had been 370 active cases at one point.