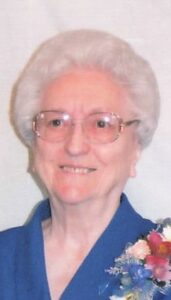 Juanita Pierson Sherwood, daughter of Loren and Lucy Pierson. Juanita was born September 4, 1927 in Pollock, MO and departed this life on Saturday, May 8, 2021 being at the age of 93.
On April 4, 1946 she was united in marriage to Ernest Sherwood. To this union two children were born Judy (Sherwood) Corman of Richmond and Don Sherwood of Liberty.
She leaves to mourn her passing three grandchildren, Dr. Bradley Richey (Paula) of Richmond, Michelle Parker (Ryan) of Kansas City, KS and Rev. Darren Sherwood (Becky) of Richmond; seven great grandchildren, Morgan Richey, Nathan Richey (Paige), Gabriel Parker, Makayla Parker, Cheyenne Leonard (Payton), Abigail Sherwood and Hadassah Sherwood; two great great grandchildren, Makenzie and Caiden Richey. She is also survived by a host of other relatives and friends.
She was preceded in death by her parents, husband, four sisters and one brother.
She gave her heart to the Lord at the age of 13 at the Pentecostal Church of God in Pinnville, MO. She served the Lord faithfully all her life. Her husband and two children started their married life on the farm. Then they started pastoring churches in Missouri, Iowa and Oklahoma. She worked long and tiring hours helping with Church work and helping build and repair churches which she never regretted. Church was her life, and she raised her children to be the same.
The family suggests donations be made to the Messenger Chapel Building Fund. They can be mailed or left and Thurman Funeral Home P.O. Box 190 – 507 E. Main St Richmond, MO 64085.
Visitation with funeral services will be held at Thurman Funeral Home in Richmond 507 E. Main St. Richmond, MO 64085 on Tuesday, May 11, 2021 with visitation starting at 10:00 a.m. and funeral services in the funeral home chapel at 11:00 a.m. Burial will follow in Woodland Cemetery in Richmond.