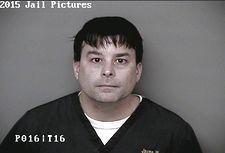 JEFFERSON CITY, Mo.- A Columbia, Mo., man has been convicted in federal court today on charges related to child pornography and the sexual exploitation of a minor.
Jayme Nathaniel Walker, 42, of Columbia, was found guilty of producing child pornography, receiving child pornography and transferring obscene materials to a minor.
Evidence introduced during the trial indicated that Walker communicated with a 14-to-15-year-old victim in Illinois, texting and exchanging pornographic photos and videos. The investigation began on June 13, 2014, when the child victim's parents contacted Illinois State Police officers. The parents turned over a laptop computer, two cell phones and an iPod to investigators.
The child victim gave information to the investigators regarding his online relationship with Walker. He stated that he never met Walker in person, although they talked about meeting several times. He stated that he told Walker his true age. They had numerous conversations, including sexual conversations, and exchanged sexually explicit photos and videos.
Investigators discovered 77 images and six videos exchanged between Walker and the child victim.
Walker now faces a mandatory minimum sentence of 15 years in federal prison and up to 60 years without parole.