Click below to listen to KMZU's Ashley Johnson interview Karin Jones, Assistant Curator of Architecture, Design, and Decorative Art.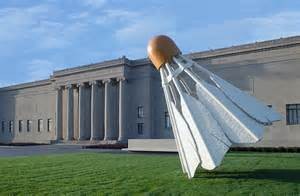 The Nelson-Atkins Museum of Art is inviting visitors to interact with a new dynamic exhibit. The museum is presenting the new Jump In! Architecture Workshop, the first self-generated interactive architecture exhibition. The exhibit is organized by an advisory task force of architectural leaders including staff from Barkley, BNIM, The City of Kansas City, Helix Architecture and Design, Hufft Projects, Zahner and more.
The exhibit deconstructs the subject of architecture and encourages visitors to explore it hands on. Visitors can expect more than 2,000 building blocks, touch screen maps and tactile walls. Outcomes can be shared in the gallery space and also through social media outlets via #Jumpinarch. This exhibition is currently  in the Bloch Building at the Kansas City Nelson-Atkins Museum and will be open through July 19th.