MACON, Mo.– A Kansas City man has been taken into custody Saturday following a narcotics investigation at the Amtrack Train Depot in La Plata, Mo.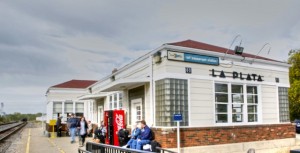 Nathaniel D. Bales, 41, was a passenger on the train and was detained after law enforcement received information that he was possibly in possession of a controlled substance.
A search warrant was executed on his personal belongings when a large quantity of methamphetamine and the controlled substance alprazolam was found.
Bales was arrested for felony drug trafficking in the first degree and possession of a controlled substance.
He is being detained at the Macon County Sheriff's Department.
Bales is scheduled to appear for an arraignment Thursday afternoon. A cash-only bond has been set at $100,000.