KANSAS CITY, Mo. – A Kansas City man has been sentenced to thirty years in federal prison for producing child pornography.
According to the U.S.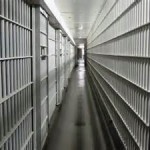 Attorney for the Western District of Missouri, Marcus S. Clark, 43, a citizen of Jamaica residing in Kansas City was sentenced Tuesday after pleading guilty on June 1st to one count each of producing chlld porn and attempting to produce child porn. The court also ordered Clark to serve ten years of supervised release after his incarceration.
Clark admitted to enticing a 15 year old girl to a motel by advertising a job for a model on Craigslist.