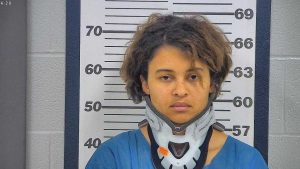 PLATTE COUNTY, Mo.- The Platte County Prosecutor, Eric Zahnd, announced that a Platte County grand jury has indicted a Kansas City, Mo., woman on first-degree murder allegations after an eight-year-old boy died in bathtub last year.
According to the release, Aushena Warren, 30, was indicted yesterday, January 29, 2018, and was charged in June of last year with abandonment of a corpse. Zahnd said the grand jury's indictment was the result of an ongoing investigation by the Kansas City Police Department.
The indictment alleges Warren caused the death of the eight-year-old by by drowning him. Court documents filed in June of 2017 indicated that police arrived at a residence in the 5800 block of North London Avenue on June 13, 2017, where paramedics had declared an eight-year-old boy dead.
The release also indicates Warren jumped from the Bond bridge just before 10:00 a.m., on June 13, 2017. She survived the fall and was taken to a hospital for treatment. Warren is currently being held in the Platte County Jail on a $500,000 cash bond.
Warren is facing the possibility of life in prison without parole if she's sentenced for first-degree murder.