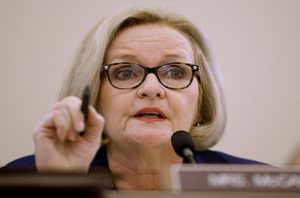 KANSAS CITY, Mo. – A National Nuclear Security Administration briefing and discussion on Monday will be the next stop on U.S. Senator Claire McCaskill's Security & Defense Tour of military installations and communities across the state to discuss Missouri's critical role in the nation's defense and call for the "honest defense budget our men and women in uniform deserve." McCaskill will also visit Whiteman Air Force Base Monday for a drone operations briefing.
TOMORROW, Monday, August 29 at the National Nuclear Security Administration Main Lobby, McCaskill will speak to reporters at a media availability at 3:30 p.m. CT following a briefing with NNSA staff.
Earlier on Monday, McCaskill will also tour Whiteman Air Force Base. On her tour, McCaskill, a senior member of the Armed Services and Homeland Security Committees, will receive briefings and hear directly from senior military leaders at locations including Whiteman Air Force Base, Jefferson Barracks, Fort Leonard Wood, the 139th Airlift Wing, and the Missouri National Guard.
McCaskill has consistently called on Republican leaders in Congress to properly budget for military operations. Federal budget caps are set to force a further reduction in the U.S. military's force size. In order to avoid drastic cuts, McCaskill has pushed for the budget caps to be addressed, and to secure investments in both defense and security needs at home. Instead, Republican leaders in the U.S. House have decided to pump resources into the Pentagon's off-the-books war budget, known as the "Overseas Contingency Operations" fund. McCaskill has likened that move to a dishonest "slush fund" since that fund does not have to be off-set or paid-for, and cannot be used by military leaders to maintain force size. Under the plan proposed by the House of Representatives, the Department of Defense is slated to run out of war funding halfway through the 2017 fiscal year.
A longtime advocate for Missouri's defense priorities, McCaskill has helped shepherd new resources to Whiteman, including by helping shape last year's annual defense bill to include the authorization of $29.5 million for a consolidated operations facility at the base. Last year Claire visited the 20th Reconnaissance Squadron at Whiteman, where she was briefed on operations and had the opportunity to speak with several pilots—some of whom were in their first enlistment and younger than 22 years old. Following the visit, Claire wrote to the Air Force to address the unique stresses felt by Airmen "deployed on station"—flying combat missions against enemy forces and immediately going home to their families after a long shift with no adequate way to decompress.
McCaskill Security & Defense Tour – Kansas City
TOMORROW, Monday, August 29
3:30 p.m. CT Media availability following briefing with NNSA staff
National Nuclear Security Administration
Main Building Lobby
14520 Botts Rd.
Kansas City, Mo. 64147