CLAY COUNTY, Mo. – A Kansas driver was held until he could post bond on several violations in Clay County Wednesday night.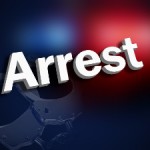 According to the arrest report from the Missouri Highway Patrol, a trooper attempted to stop Darrick M. Warren, 28, of Shawnee for careless driving around 10:45 last night. Warren allegedly failed to stop for the red lights and siren before finally pulling over. During his arrest for careless and imprudent driving and resisting arrest by fleeing, Warren was alleged to have been in felony possession of a controlled substance.
He was held at the Clay County Detention Center to await bond.