PLATTE CITY, Mo– A Kansas inmate saw final sentencing during his January 8, 2016, court proceeding for the 2013 escape from the Lansing, Kansas, correctional facility which eventually led law enforcement officers in to a stand-off situation in Clinton County.
According to a release from Platte County Prosecuting Attorney, Eric Zahnd, Scott Gilbert, 52, will serve more than 12 decades behind bars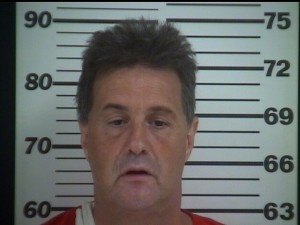 for his role in the jail break and the incidents which followed.
Reports indicate Gilbert and a fellow inmate were pulling out of a McDonalds in Platte City May 10th of 2013 in a stolen truck when an officer attempted to pull over the vehicle. Gilbert's accomplice, the reported driver of the truck, did not pull over but instead led police on a high speed, multi-county pursuit with which eventually ended in rural Clinton County with both inmates barricaded inside a vacant home.
During the pursuit, Gilbert fired a shotgun many times, hitting four patrol vehicles in the process. Gilbert was found guilty by a Jury in November 2015.
Friday he was sentenced to 128 years in the Missouri department of corrections.
Zahnd said, "This defendant has the longest rap sheet of any person I have prosecuted during by 13 years in office.  Our goal was to make sure the felonies he committed in Platte County were his last—by making sure he spent the rest of his life in prison."
Gilberts alleged accomplice remains behind bars. His jury trial is slated to begin in June of 2016.