KANSAS CITY, Mo. – United States Attorney for the Western District of Missouri, Tammy Dickinson, announced that on Tuesday, May 10, 2016, a Kansas City, Mo., man who was wounded in a shoot-out with police officers was convicted in federal court of illegally possessing a firearm.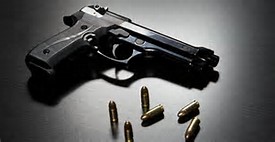 According to a press release, Cahlan A. Clay, 28, of Kansas City, was found guilty of being a felon in possession of a firearm. Clay, who has two prior felony convictions, illegally possessed a Jimenez Arms 9mm handgun on September 23, 2012.
According to trial testimony, two uniformed Kansas City police officers who were working off-duty heard multiple gunshots from the area of the Club Luna nightclub, 1520 Grand Ave., at approximately 2:45 a.m. on September 23, 2012. As the officers approached, Clay raised his firearm and pointed it at one of the officers.
The officer saw a muzzle flash but was unable to return fire because of the people running in his direction. Clay began running south on Grand Avenue with the officer in pursuit. Clay turned and pointed the gun in the officer's direction a second time and the officer returned fire. Clay fell when he reached the corner of 16th and Grand.
As the officer turned the corner at 16th and Grand, he found Clay, who had been shot twice, sitting on the ground and leaning against a building with a gun in his hand, pointed at the officer. Clay complied after being told to drop the gun. Under federal law, it is illegal for anyone who has been convicted of a felony to be in possession of any firearm or ammunition. Clay has a prior felony conviction for aggravated battery.
Under federal statutes, Clay is subject to a sentence of up to 10 years in federal prison without parole.
Following the presentation of evidence, the jury in the U.S. District Court in Kansas City, Mo., deliberated for about an hour and a half before returning the guilty verdict to U.S. District Judge Roseann Ketchmark, ending a trial that began Monday, May 9, 2016.
This case was investigated by the Kansas City, Mo., Police Department. It is being prosecuted by Assistant U.S. Attorneys Patrick Edwards and Courtney R. Pratten. It was investigated by the Kansas City, Mo., Police Department.