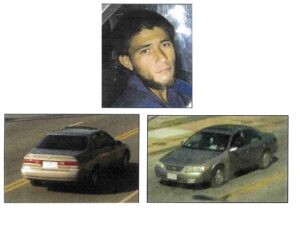 KANSAS CITY, Mo. — The Kansas City Police Department Homicide Unit is asking for help to locate a man wanted for Second Degree Murder.  Nasario Martinez-Maciel, an Hispanic male, 23, is a suspect in an alleged homicide that took place around 10:41 p.m. in the 5200 block of Norledge Avenue on October 15, 2020, according to a release from the Kansas City Police Department. The subject is considered armed and dangerous.
The vehicle Martinez-Marciel is believed to have last been in is a 1997 Toyota Camry 4-door with a sunroof, tinted windows, a different rear passenger wheel, different color front driver's side quarter panel, no license plates and discoloration of the driver's side rear bumper.
Anyone with any information is urged to contact law enforcement immediately. The KCPD Homicide Unit's phone number is 816-234-5043 or call the TIPS hotline at 816-474-TIPS.