UPDATE (05/10/16; 9:45 p.m.): Curtis Ayers has been formally charged in his involvement with the fatal shooting of Det. Brad Lancaster.
A warrant has been issued against Ayers on several charges, including one count of 1st degree assault – causing serious physical injury, three counts of armed criminal action, two counts of discharging or shooting a firearm at or from a motor vehicle, and one count of resisting arrest, detention, or stop by fleeing.
A cash bond has been set for Ayers at $250,000.
KANSAS CITY, Ks. – A KCK Police Detective was fatally shot this afternoon near Kansas Speedway.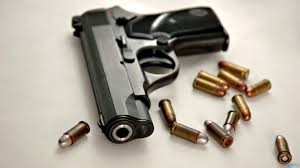 According to the Kansas City Kansas Police Department's Facebook page, officers were called at 12:17 p.m. regarding a suspicious person at the Hollywood Casino near Kansas Speedway. The suspect, Curtis Ayers, 28, fled the scene on foot once officers made contact, and a chase ensued.
A detective went to assist officers when Ayers opened fire near 110th and State Avenue, striking the detective several times. Ayers then fled in the detective's car.
The detective, who has been identified as Det. Brad Lancaster, was taken to KU Medical Center, where he died from his injuries about three hours later.
A release from the KCPD states that around 2:30 p.m. this afternoon, officers saw a vehicle matching the description of the Silver 2015 Ford Focus Ayers was driving and pursued the vehicle to the Bannister Road and 71 Highway area. Ayers lost control of the vehicle as he was exiting 71 Highway southbound at Bannister, and hit a concrete bridge post under 71 Highway.
He then jumped out of the vehicle, ran up a hill to 71 Highway, and attempted to car jack a vehicle that was heading northbound on 71. He shot the female driver of the vehicle he was trying to take. The victim drove off and Ayers ran to the shoulder of the highway, where he was shot by a KCPD officer.
The female driver and Ayers were transported to a local hospital. Both sustained non-life threatening injuries.