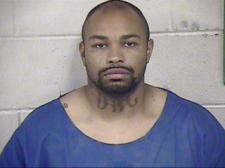 KANSAS CITY, Mo.- Derrick Williams, 31, of Kansas City, Ks. has been charged with murder in the 2nd degree along a number of other felony charges in connection with the shooting death of a woman early Thursday morning at an apartment in Kansas City.
According to court documents, Williams, has been charged by the Jackson County Prosecutors with 2nd degree murder, three counts of armed criminal action, and three counts of endangering the welfare of a child. Police have confirmed the identity of the victim as Dennis Gayle, 32, of Kansas City.
Court records also indicate Kansas City police were called to the apartment in the 2500 block of Independence Avenue shortly after 5 a.m. after a neighbor reported hearing eight or nine gunshots and the sound of screams.
Upon arrival officers found Williams naked in front of the apartment building. When confronted he reportedly told the officers about the dead woman inside the home.
Police believed Williams was under the influence of drugs. Officers found a handgun near the building. Inside the apartment, officers found the woman's body and three small children hiding under a blanket.
Bond amount has been set at $300,000 cash only. Court dates are still pending.