A Napoleon resident, 55-year-old Keith Charles Kronshage died Wednesday, Feb. 26.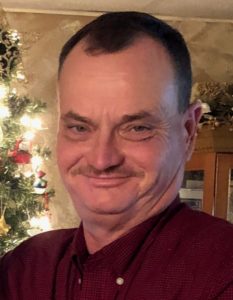 Visitation will be held from 5-7 p.m., Wednesday, March 4 at Ralph O. Jones Funeral Home in Odessa. Funeral service will be held at 10:00 a.m., Thursday, March 5 at the St. Paul Church in Napoleon.
Burial will be in the St. Paul Cemetery. Memorials are suggested to the St. Paul Church or the American Diabetes Association.
Keith was born on October 3, 1964 to Byron and Norma Marie (Tilly) Kronshage of Napoleon, MO.  He graduated from Wellington-Napoleon High School in 1983.  Over the years, Keith loved to farm.  He was currently working as a delivery truck driver for John Deere in Higginsville and Centerview, MO.  Prior to that, he worked for Remington Arms Co. in Lexington, MO.  Keith was a volunteer firefighter for Wellington-Napoleon Fire District for over 25 years.  He was a member of the St. Paul Church in Napoleon, MO and also attended Calvary Baptist Church in Odessa, MO.  In addition to spending time with family and friends, Keith enjoyed being outdoors, working with his hands, fishing, and hunting deer and morel mushrooms.
Survivors include his fiancée, Connie Cooper of the home; one son, George "Chaz" Kronshage of Napoleon, MO; three step-children, Cammi Martin and husband, Brent of Pleasant Hill, MO, Cory Gallagher and Fiancee, Rachel Snodgrass of Napoleon, MO, and Ben Atwood of Blue Springs, MO; four step-grandchildren, Abby Moore, Brooklyn Martin, Micah Moore, and Christofer Snodgrass; three sisters, Sheryl Kronshage and companion of Ken Yates of Kansas City, MO, Vicki Lake and husband, Ken of Sedalia, MO, and Rita Lohr and husband, Steve of  Olathe, KS; and many nieces and nephews.
Keith was preceded in death by his parents.