KANSAS CITY, Mo. — This will be the last year that Kemper Arena will host the Western Farm Show Truck and Tractor pull. Dave Bennett, the voice of the Outlaw Truck and Tractor Pulling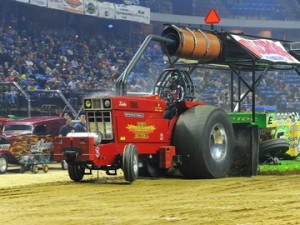 Association says, "This is the last event as of right now to be held in Kemper Arena because after we leave the city is shutting it down." 
Click below to listen to KMZU's Kim Nuelle speak with Dave Bennett.

Dave Bennett says, "Pulling started in Kemper way back in 1981. It was one of the premier events along with basketball, and the concerts, and the conventions. It was the elite building back in the eighties. Because of the new Sprint Center and the newer, greater, neater, sweeter, more completer venues nowadays it's kind of been forgotten."
Bennett said unless someone buys it, Kansas City will shut the venue down. Originally it was planned to shut down the first of the year, but it was decided to allow the tractor pull to be the last event because it brings in a lot of revenue. The doors of Kemper Arena will close on March 1st, 2016.
When asked if the pull would move to another venue Bennett replied, "To my knowledge there is nothing [else] that can handle an indoor pull. Sprint can't handle it [because] it's too tight… down there. As I speak to you right now, I know of nothing so I'm thinking this will be the very last Western Farm Show Championship Truck and Tractor Pull in Kansas City, Missouri."
The pull starts at 6 p.m. on Friday and Saturday, February 26 and 27 , 2016. There will be 60 hooks each night, and trucks and tractors from 9 different states will be present. Admission is $22 dollars on Friday night and $27 dollars Saturday night.
Click below to hear Dave go over the list of classes for the weekend.

A Western Farm Show ticket gives people free admission onto the floor of Kemper to get an up close look at the machines on Friday and Saturday from 2-4 p.m.
For more information and a line up of the drivers, visit http://www.westernfarmshow.com/tractor-pull.html or http://outlawpulling.com/event/kansas-city-mo/.