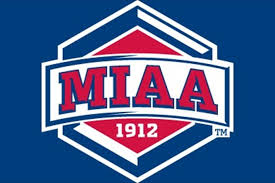 Kansas City, Mo. (MIAA Press Release)– The finalists for the 23rd annual Ken B. Jones award were announced today by the MIAA.  For the men the finalists are Brent Wilson (Emporia State), Jon Inman (Fort Hays State) and Eric Crawford (Northeastern State) while the women are Heavin Warner (Central Missouri), Yanique Ellington (Lincoln) and Natalie O'Keefe (Southwest Baptist).
The award, which is in its 23rd year, is named in honor of the man who served as the MIAA's first full-time commissioner for 16 years. Jones retired in 1997 and passed away in May 2004. He was inducted into the MIAA Hall of Fame in the inaugural Class of 2010.
The three males and females were selected from a field of 22 and will be invited to Kansas City for the MIAA Awards Ceremony which will be held June 1 (Make a Reservation) at the Kansas City Public Library-Plaza Branch. At the event one male and one female will be announced as the winners of the Ken B. Jones Award.
A 15-member panel of athletics directors, senior woman administrators, faculty athletics representatives and sports information directors – including a representative from each member institution – select the finalists.
Each nominee is judged in four areas: 2015-16 athletic accomplishments; career academic accomplishments; 2015-16 campus/community service; and career athletic and service achievements.
To be nominated, a student-athlete must have at least a 3.25 cumulative grade-point average as of February 1, and must have completed at least their junior season of eligibility in the 2015-16 academic year
Finalist Capsules
Wilson, a senior quarterback from Emporia State was the fourth place finisher in the Harlon Hill Trophy Balloting and helped lead the Hornets to the NCAA National Quarterfinals. He was 337 of 521 for 4,244 yards and 40 touchdowns through the air and was named First Team All-MIAA. He is second in MIAA history and single season passing and total offense as well as being third in single season touchdown passes. The Ponca City, Okla. native carries a 3.74 in Management.
Inman, the junior 184-pound wrestler from Fort Hays State went 38-4 overall and was named an All-American after placing fifth at the NCAA Championships. He went 25-3 against NCAA Division II Competition as well as being the MIAA Champion at 184 pounds. He was named Academic All-District this season and is a three time member of the Wrestling Coaches Association All-Academic first team. The Branson, Mo. native currently carries a 3.85 in Justice Studies.
Crawford, a senior men's soccer player from Northeastern State was named third team All-American as well as being first team All-Region and All-MIAA. He helped to team to being the best defense in the MIAA as well as the second best defense in school history. In his career he is a two-time All-American and was named Academic All-District in both 2013 and 2015. The Ontario, Canada native carries a 3.42 in Biology.
Warner, the graduate student thrower from the Central Missouri track and field team is a two-time national champion in her career as well as a seven time All-American performer. This season she was the nation runner-up in the weight throw indoors and ranks first or second in the hammer, shot put and discus heading into the Outdoor National Championships. The St. Joseph, Mo. native is carrying a 3.33 graduate GPA in Exercise Science after obtaining a 3.67 undergrad in Criminal Justice.
Ellington, the senior springer for the Lincoln track and field team was a National Champion this season in the 200 meters as well as being a two-time All-American. In her career she has won three National Championships, one in the 200 and two as part of Lincoln's 4×100 meter relay team. She is a 13-time NCAA Division II All-American over her career. The Manchester, Jamaica native carries a 3.60 in Wellness.
O'Keefe, a junior jumper and basketball player from Southwest Baptist won the National Championship in the indoor high jump. She is a three-time MIAA Scholar Athlete as well as being All-MIAA five times in the high jump as well as earning All-American status three times. The Granite City, Ill. native is carrying a 4.0 in Art.