OLATHE, Kan. (AP) — A man who was convicted of killing three people at Jewish sites in Kansas has told jurors he doesn't care if they sentence him to death.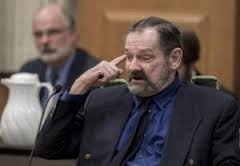 Frazier Miller was convicted of capital murder last week in the April 2014 shootings.
Jurors are deciding whether to recommend a death sentence.
During closing arguments today in the trial's sentencing phase, a prosecutor asked for the death penalty. Miller, an avowed anti-Semite who is acting as his own attorney, told jurors: "Frankly, my dears, I don't give a damn."