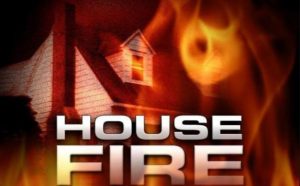 KIRKSVILLE, Mo – Fire crews fought a blaze Tuesday, June 21, 2016 at a residence near Kirksville before 6 p.m.
Fire had progressed through the greater portion of the home of Mr. and Mrs. Edward Becker on Strawberry Way, just east of Kirksville in Adair County, as responders arrived.
Both occupants escaped safely, but were inside when the blaze started.  Assistant Fire Chief, John Wise in Adair County said the fire started as teh couple was using a deep fryer in a basement garage.
Reportedly, the couple is being assisted through American Red Cross.