KIRKSVILLE, Mo. – Two police officers from Kirksville agencies have received Medals of Valor from the Missouri Police Chiefs.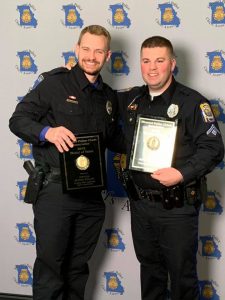 Association. Truman State University Officer Slater Kelley and Kirksville Officer Jason Underwood were recognized for pulling a toddler from Spur Pond on September 19th of this year. The three year old walked away from home when his father fell asleep.
Kelley and Underwood accepted the awards Thursday night, at the associations annual meeting in Jefferson City.