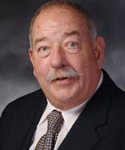 The new chair of Missouri's Joint Committee on Education hails from Chillicothe.  Click to hear KMZU's Sarah Scott speak with District 7 Representative Mike Lair:
The 14-member, bi-partisan group will study Missouri's education issues during the interim.  "I've given the members of the committee an assignment to get me topics that they would like to study," said Lair, "Then I will make some determination as to which of them looks like it fits us the best and maybe how much time will be necessary."
Lair has already received several suggestions.  "One is to look at the funding formula for K-12.  Another is to look at teacher preparation in the higher ed community.  Another is principal preparation and maybe look at the system of evaluation and how it's applied.  Maybe look at funding a process by which good teachers could be rewarded," said Lair.
Lair has spent a great deal of his life working on education.  He was in a classroom for almost 40 years.  He served as chair of the Appropriations Committee for Education for three years, and been with the group for a total of five years.  "Education really is the thing that I've focused on," said Lair.