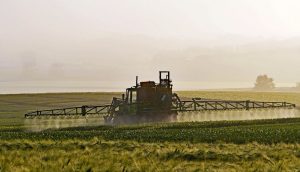 AP – National and Midwestern agricultural groups have formed a coalition that challenges weed killer warnings in California.
According to an Associated Press report, a November, 2017 lawsuit filed in federal court in Sacramento, is the latest attempt seeking to bar the state of California from enforcing what the suit calls, false and misleading warnings. The warnings would be placed on Roundup products containing glyphosate. The chemical is not regulated by the United States EPA. However, based on an international finding out of France which identifies the product as a 'probable human carcinogen,' the California EPA has added the chemical to its list of known, cancer causing substances.
National and state agriculture groups, including those from Missouri, and St. Louis-based, Monsanto, contend in the lawsuit that the labels contain false information that may lead to higher food costs, diminished economies, and lost revenue for public and private interests. The suit claims California's decision violates constitutional due-process, and should be superseded by federal regulations.