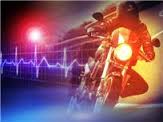 LIBERTY, Mo. — A Lawson man was taken to the hospital after a one vehicle accident in Clay County Sunday afternoon.
According to the Missouri State Highway Patrol, Benjamin Stevens, 20, was southbound on I-35 in Liberty around 2:15 p.m. August 16, when he lost control of his motorcycle and traveled off the roadway. Stevens was thrown off the bike.
He sustained moderate injuries during the accident. He was taken to Liberty Hospital for treatment.