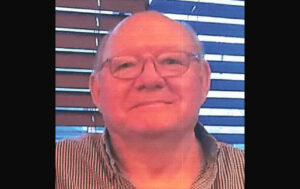 Lee Roy Van Oster, 76, a resident of Richmond, passed away on Saturday, November 20, 2021, at North Care Hospice in North Kansas City.
Lee Roy was born on January 3, 1945, the son of Roy and Emma (Palmer) Van Oster. On August 13, 1966, Lee Roy married Carline Kinney of Excelsior Springs, she survives of the home.
Additional survivors include: three sons, James Roy Van Oster (Cindy Stunkel) of Kearney, Shawn Allen Van Oster (Shelley) of Wellston, OK, and Eric Lee Van Oster of Rayville; brother, Rick Van Oster of Richmond; three sisters, Cathy Wilson (Robert) of Richmond, Linda Littrell of Higginsville, and Virginia Franco; four grandchildren, Anna, Jacob, Hayley, and Jessi; two great grandchildren, Eli and Lincoln; he is also survived by his favorite two cats Tom and Bob.
He was preceded in death by his parents, two brothers, Bill and David Van Oster, sister, Beverly Mallott, and grandson, Austin Van Oster.
Lee Roy was a devoted husband, father, grandfather, and friend. He joined the Missouri National Guard in 1966. Some of his favorite things were hunting, fishing (snagging), Kansas City Chiefs football, driving his classic GTO and spending time with his family. He loved his grandchildren and enjoyed spending time with them as well.
Visitation with funeral services will be held at Thurman Funeral Home in Richmond on Friday, November 26, 2021. Visitation will begin at 1:00 p.m. with funeral services to follow in the funeral home chapel at 2:00 p.m. Burial will follow in Woodland Cemetery in Richmond.
The family suggests memorial contributions be made in Lee Roy's honor to charity of your choice. They may be mailed or left at Thurman Funeral Home 507 East Main Street – P.O. Box 190 Richmond, MO 64085. Please remember to share your memories of Lee Roy with the family at www.thurmanfuneralhome.com.