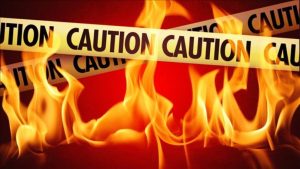 LEE'S SUMMIT, Mo – An apartment fire Monday, displaced 22 residents in Lee's Summit.
Tony Campbell died from injuries sustained in the fire.  Crews battled a blaze in the 2400 block of 291 Highway.  Reportedly, the maintenance man was attempting to light a propane furnace which caused a fireball that damaged three units upstairs.  The roof of the building collapsed from the explosion.  Displaced residents are receiving assistance from Red Cross.
According to eyewitnesses, Campbell was seen on fire, running from the building.
No other injuries were reported.