LEXINGTON, Mo— City council members in Lexington discussed everything from transportation and wood chippers to PWSD #2 concerns, police building updates, and illegal dumping. Click play below to hear all the details during the Tuesday, August 11th, 2015 city council meeting: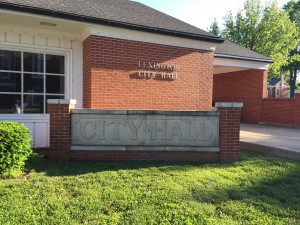 1st half-
2nd half-
During a routinely scheduled council meeting, city leaders were faced with many topics of consideration.
First up under discussion items, councilmen and women heard a compelling argument from the transportation board regarding a new bond. One board member, Sonny Oetting, led the presentation hoping to persuade the council.
Oetting informed those in attendance that initial plans were to refinance the original bonds from 2009. When the board realized that refinancing wasn't an option for another 4 years, they found another route. Oetting said the new bond will not change anything the city is currently paying on and in fact will only add an extra payment at the maturity of the bonds in total.
City leaders agreed unanimously to allow the transportation board to apply for the $190,000 bond which will not be restricted to one project but instead can be spread out through multiple road projects.
Another attention grabber during the meeting revolved around PWSD #2, otherwise known as the Higginsville tower. District Manager, Tammie Winter and a few of her board members were in attendance to bring attention to a few items of concern.
Winter was detailed while presenting multiple negotiation points for a new contract with Lafayette County water and the City of Lexington.
A few areas attention was drawn to include typical or even standard elements within a contract including equal measurements fo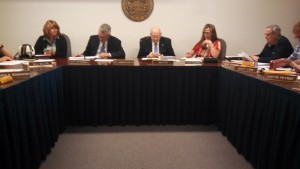 r both parties and a 30-60 day notice before a rate increase. Winter also asked the council to consider bringing sewer rates back down to a more favorable rate for customers. She confirmed that her district saw a 62% increase when sewer prices rose in early May.
Mayor Jerry Brown showed an understanding of the feeling and said Lexington will work closely with the PWSD #2 board members to reach a favorable contract for both sides.
Other subjects discussed included the presentation of a wood chipper bid in the amount of $30,830 for a gas ran 89 hp KC Bobcat and the announcement of the new police building finally being move in ready. The City Administrator, Mark Rounds, was backed by Police Chief, Mark Lamphier, when he stated that officers and equipment will be moved out of the old building by the end of August.
Along with the many items already touched on, city leaders, especially Councilmen and Mayor Pro-tem, Justin Petray, was outward with his feelings about the recent illegal dumping of various items. Mayor Brown reported maintenance workers blew chunks of cut wood, whole cucumbers, and other debris out of a blocked sewage drain.
"To me, that's an individual being malicious," Petray expressed, "That's the same as someone going along and stealing stop signs and what have you and there is no reason for that. I mean I don't know if we as a city have upset somebody and this is their way of getting back at us but I honestly think this needs to be looked at very hard."
For more on the Tuesday evening meeting, audio has been posted above. Lexington leaders will next gather on the 25th of August at 7 :00 p.m. in council chambers at City Hall.