LAFAYETTE COUNTY, Mo. – A Lexington man is scheduled to appear for a formal arraignment in Lafayette County today.
Shawn D. Schieber, 37, will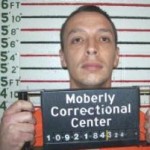 appear at 9:00 this morning for felony charges of assault on a law enforcement officer in the second degree, armed criminal action, resisting arrest and a misdemeanor count of assault in the third degree.
Schieber was arrested on February 8, after a Lexington officer responding to a 911 hangup call was allegedly punched and struck with a stun gun by Schieber before his was subdued and taken into custody.