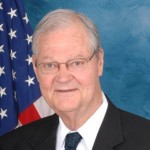 The unexpected death of former Congressman Ike Skelton has put many of his former colleagues and constituents into mourning. The Lexington native passed away at a hospital in Arlington, Virginia Monday night.
Click to hear a comments from Lexington Mayor Jerry Brown:
I would say that Representative Skelton was an icon in our times. He was a superior statesman for Lexington, Lafayette County, our state of Missouri, and obviously the nation. To me, his interaction with world leaders, general officers, and above was always above reproach of anything he would do. Representative Skelton, to me, led efforts to reshape the United States Military for years into the future. He was a forward-thinking person, one that looked out to anticipate what was going on, because he had a great study in history, and a wonderful background, plus a phenomenal mind. So he could see the value in the military changing into a more dynamic force than what it was in the 1960s, 70s, and 80s. He, in my judgement, will forever be remembered in Legendary Lexington's history. He is a person that was highly thought of by anyone. It didn't make any difference who they are, what their persuasions were. They always respected Ike Skelton as a gentleman. And I think that's the very main key, is that he was a superior gentleman throughout his life.
Skelton served 17 years in the U.S. House. His 34-year tenure ended with a loss in 2010. He was 81 years old.
Brown spent 24 years in the U.S. Air Force before settling in Lexington. No memorial services have been planned in Lexington at this time.