Click play below to listen to KMZU's Ashley Johnson interview the new Chief of Police at the Lexington Police Department, Mark Lamphier: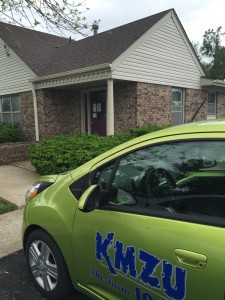 In the months since longtime Chief of Police, Don Rector, left the Lexington Police Department, there have been a number of time consuming steps the city has had to make in order to fill the position. After establishing a Police Board and advertising the position, came the task of fingering through the applications and scheduling interviews. Even after a decision was made, a residency ordinance slowed down the process yet again, further delaying the formal introduction for the new Chief of Police.
However, after it was all said and done and city council members agreed to waive the residency restriction, a 23 year Lexington officer was promoted to the head position. Former Captain and new Chief of Police, Mark Lamphier, said that one of his biggest goals is to build and maintain a healthy relationship with Lexington residents. "I want to try to do the best I can to gain the confidence of the people we serve as well as the trust of the people we serve," Lamphier explained his thoughts, "I think that's very very important and I'm going to try to look at some ways to get information out to the public a little bit better than we have in the past. No big promises, I'm looking at some things now, and I'm trying to get some type of system implemented where we can get that information out better than we have in the past." The Chief also stated that officer accountability will be an area of improvement for LPD officers.
Another area Lamphier holds near and dear and truly believes in is D.A.R.E. Even with the weight of the whole department now on his shoulders, Lamphier expressed his desire to maintain his long time position as a D.A.R.E. officer, "That is something that I feel is of utmost importance when you can bridge the gaps between child and young folks and the police." His confidence in his staff gives Lamphier the extra nudge he needs to know that all will be taken care of while out of house building those bridges in the community.
Despite the economy maintaining its roller coaster like ups and downs, Chief Lamphier spoke with confidence in regards to the department's budget issues, "The city provides an awful lot with an awful little so the budget is my number one concern," and even with the realization that some federal grants have been depleted or extinguished completely, high hopes were still displayed, "We're going to have to be creative in what we do and how we do it. I want to stress the fact that it's not just a Police Department problem and it's not just a city of Lexington problem, I think everybody around is having problems. So, budget is going to be an issue, but we're going to have to find a way to bridges those gaps and make things work."
The new Chief of Police left our interviewer with a few last words, "I just appreciate the opportunity to be able to serve in this capacity and give them my word that I'm going to work hard to earn their trust and earn their respect and the officers here are going to do everything they can to make sure that their needs are met. If there's an issue, I would surely hope that somebody would feel free to contact me, I will have an open door policy, and we'll work on those issues together as a community."