Click play below to listen to the Tuesday, April 28th Lexington City Council meeting:
Part I-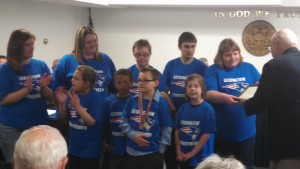 Part II-

Lexington City Council members and residents in the community gathered Tuesday evening for a regularly scheduled city council meeting.
Before proceeding onto approved agenda items, Mayor Jerry Brown announced the completion of the Lexington Special Olympic Minute Man Basketball Teams first season. Brown also recognized the young athlete's recent triumph at the Lexington regional basketball competition, where the team brought home gold medals. In honor of the good news, April 28th was proclaimed Special Olympic Basketball Team Day in Lexington.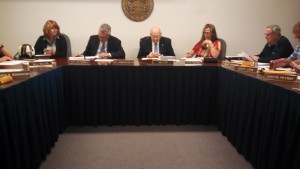 Also brought forth during the evening was an uplifting report from City Administrator, Mark Rounds, regarding the on-going task of economic development. Rounds said that he and the four other cities that Lexington is in cahoots with have finally approved a preliminary overall concept for a regional housing plan to bring to the Zimmer Group. This would allow the city government to be in a position to apply for bigger federal grants that are expected to work their way down the line.
The Council approved an amendment to the ATV/UTV ordinance which now allows drivers to legally carry as many passengers aboard the vehicle as stated in the vehicles owner's manual. Another ordinance passed 7-0 was a sewer rate increase. Lexington residents and water customers will now see a $0.75 base increase to their bills. Also, the rate per 1000 gallons over the first 700 gallons will rise buy $0.23. The new minimum rate increase would be $16. Currently, 4000 gallons costs $30.60, with the increase, the new amount would be $32.10 for 4000 gallons.
The Administration Committee sought a waiver for the residency requirements for the Chief of Police position. With a 6-1 vote, the waiver was pushed through, now allowing Mark Lamphier to be formally announced as the new Lexington Chief of Police. This brings an end to the more than 6 month process and hunt to fill the position.
Another area that has seemed to be a staple in citizen's minds for many months may finally be drawing to a conclusion as well. City Attorney and co-negotiator for the hospital proposals, Paula McCoy, said that while they are still in the process of negotiating, an informal lease has been drafted. Her hopes are that after speaking with the hospitals attorney and incorporating needed ideas, she may have something to bring back to the council, if not by the next meeting then by the first of June.
Lexington council will next convene May 12th at 7 p.m. in City Hall council chambers.