RIPOLI, Libya (AP) — A Libyan navy spokesman in Tripoli says his militia-backed government simply doesn't have the ships or equipment to handle the surge of migrants using the lawless Libyan coast as a transit point for Europe.
At least 105 migrants have died in the last two days as two overcrowded smugglers' boats capsized off Libya — and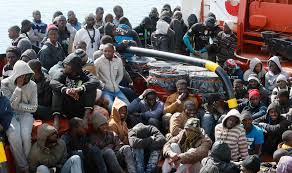 U.N. authorities fear at least 100 other migrants are missing in the disaster.
Navy spokesman Ayoub Qassem says "the coast guard's capabilities are very weak and that's what contributes to the rise in migration."
His government has been fighting a separate internationally recognized Libyan government in the east, a chaotic split that has made Libya an easy place for smugglers to operate.
The passport police chief for the western coastal city of Zuwara, Anwar Abu el-Deeb, says his department can't even estimate how many smugglers' boats leave the city every day, heading to Italy.