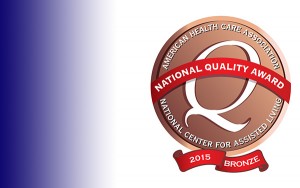 CARROLLTON, Mo. — The Life Care Center of Carrollton won the 2015 Bronze National Quality Award from the American Health Care Association and the National Center for Assisted Living. Lynn Hayes, Executive Director of the Life Care Center says the center plans to apply for the silver award later in the year as well.
According to a release from the Life Care Center, facilities around the country submit applications to be reviewed by a board of examiners who then decide which facilities to highlight for their, "rigorous quality improvement system."
If the care center's silver application is accepted the center will be able to apply for the third and highest tier of recognition; the gold award. However, Hayes says the center is eligible to apply for the silver award until the bronze award has been presented at the AHCA/NCAL's 66th Annual Convention and Exposition in October 2015.