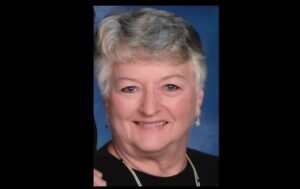 Linda Faye (Ballard) Soendker, 75 of Mayview, Missouri passed away on Friday, April 16, 2021 at Centerpoint Medical Center in Independence, MO.
A visitation will be held from 6 p.m. to 8 p.m., Tuesday, April 20, at the First Baptist Church in Lexington. A funeral service will be held at 10:30 a.m. Wednesday, April 21, at the church.  Burial will be at Lexington Memory Gardens in Lexington.  Memorials are suggested to the American Heart Association.  Memories of Linda and condolences for her family may be left here. Arrangements have been entrusted to the Walker-Nadler-Fuller Funeral Home in Lexington.
Linda was born on January 16, 1946 in Clinton, MO to Ralph and Ruby Margaret Prier.  She graduated in 1963 from Lexington High School in Lexington, MO.  Linda worked for various companies in office administration and retired from Riverbend Seed Co. in Carrollton, MO.  She married Larry Kenneth Soendker on August 30, 1963 in Higginsville, MO.  Linda was a member of the Zion United Church of Christ in Mayview, MO and the Higginsville Quilters Guild in Higginsville, MO.  In addition to spending time with family and friends, Linda enjoyed quilting, sewing, gardening, cooking, and most of all spoiling her grandchildren.
Survivors include Linda's husband Larry Soendker of Mayview, MO; three children, Kieth Dwayne Soendker and wife Marcheta of Independence, MO, Dena Rae Prindle and husband Michael of Odessa, MO and, Kimberly Dawn Wilton of Lexington, MO; eight grandchildren, Jacob Prindle, William Soendker, Stephanie Soendker, Matthew Prindle, Aaron Prindle, Ashley Wilton, Jennifer Soendker, and Kelsey Wilton; one great-grandchild, Callie Kay Soendker; two sisters, Kathy Self of Odessa, MO and Betty Bertz of Lexington, MO, and many nieces and nephews.
In addition to her parents, Linda was preceded in death by a sister, Deborah Fiene.