O'FALLON, Mo. – High School baseball continues at 11:00 a.m. this morning on our sister station, KRLI, 103.9.
The Holden Eagles lost yesterday to the Malden Green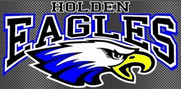 Wave by a score of 9 to 3. Holden will now face Hallsville, who lost to Stafford 6 to 0, Tuesday night.
Join us on KRLI, 103.9, where Holden and Hallsville face off at 11:00 a.m. for third place in the consolation game of the Class 3 State High School Playoffs.