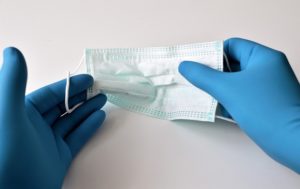 CHILLICOTHE —  County leaders are joining the Livingston County Health Center in encouraging residents to wear a mask in public.
Although masks are not required in Livingston County at this time, leaders are strongly encouraging that residents wear a mask after seeing a spike in COVID-19 cases within the last few weeks.
"It's not too late to flatten the curve locally," Sherry Weldon, the administrator health center, said in the release. "We urge everyone to be cautions and considerate of others right now and do the right thing by wearing a mask in public. Every citizen in our county can help by making masks a regular part of everyday activities."
According to the news release, those who are cosigning the health center's efforts are City of Chillicothe officials, Chillicothe R-II Schools; Livingston County Commissioners; Hedrick Medical Center; Chillicothe Area Chamber of Commerce and Greater Chillicothe Visitor's Region.
"Our community works best when we work together," Chillicothe Mayor Theresa Kelly said in the release. "Taking personal responsibility to wear a mask will help our businesses stay open, keep our friends and neighbors on the job and allow our kids to go back to school safely."
According to the release, disposable masks and signs encouraging wearing a mask are available at the health center.