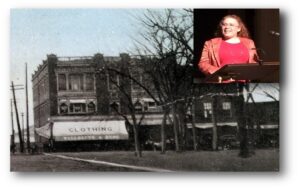 CHILLICOTHE — As Missouri Bicentennial celebrations pop up throughout the state, the Livingston County Library is doing its part to honor Missouri as the 24th state to enter the United States. The public is invited to examine the state's past, particularly Missouri's Jewish history, as part of the library's summer reading program.  Individuals are invited to join guest speaker Mara Cohen Ioannides who will present How Jews Helped Create Missouri at the library. Adult Services Coordinator Kirsten Mouton, from the Livingston County Library,  has more about how the author and the library became acquainted.
According to the State Historical Society of Missouri Mara Cohen Ioannides "is the president of the Midwest Jewish Studies Association. She has edited the only published volume on the history of the Jews of the Ozarks and has published nearly a dozen articles, book chapters and books on the Jews of America, the Jews of the Midwest and the Jews of the Ozarks. She is the authority of Jews of the Ozarks." Ioannides will be the guest speaker at the Livingston County Library toward the end of July. Mouton talks about what participants can expect during the event.
How Jews Helped Create Missouri , cohosted by Missouri  Humanities, is a  free, in-person program and scheduled to begin at 6:30 p.m. Tuesday, July 27, at 450 Locust Street in Chillicothe. No registration is required.
Individuals who would like to donate to the Livingston County Library can click here for more information.