Four current or past employees of the Livingston County Sheriff's Office were formally recognized on Wednesday for their individual acts of courage and valor in 2011.  Click to hear KMZUs Kristie Cross talk with Sheriff Steve Cox:
Press release from Livingston County Sheriff's Office
LIFE SAVING AWARDS AND RECOGNITION

On Wednesday, May 09, four current or past employees of the Livingston County Sheriffs Office were formerly recognized for individual acts of courage and valor which resulted in the saving of human life in 2011.
---
Deputy Matt Ahal
On November 30, 2011 Deputy Ahal quickly responded to a rural address prompted by a 911 caller reporting her husband was in a life threatening situation and desperately needing emergency medical care.
Deputy Ahal was the first responder to arrive at the scene and immediately began life saving CPR along with the wife until the Chillicothe Department of Emergency Services arrived to help.
We understand Deputy Ahal, the caller, Ambulance crew and other emergency medical care providers did an outstanding job in working together to save human life.
Deputy Ahal continued in helping the family as he also helped calm and assure the wife who had initiated the 911 call and also performed CPR to save her spouse.
Deputy Ahal displayed extreme professionalism and relied on his education, training, and experience in more then earning this Life Saving Award.
Matt is now employed as a full time Youth Minister at First Christian Church and remains a Reserve Deputy with the LCSO.
---
Sergeant Michael Claypole
On December 26, 2011 Sergeant Claypole responded to a residence in Wheeling as a 911 caller advised dispatch of a suicidal man that was armed with a knife and inside the residence. The caller reported the subject knew law enforcement was on the way and he had retreated to an unknown location inside the home. Information was unknown if the man were taking additional steps to end his life or prepare for a confrontation with law enforcement.
Sgt. Claypole was first to arrive and knew his only backup was several minutes away. Sgt. Claypole witnessed the caller flee the home upon his arrival and he also saw the suspect quickly flee from the front door into the interior of the home. Sgt. Claypole was fearful the man was either seeking to arm himself or end his own life. Sgt. Claypole immediately entered the home and confronted the suicidal person. Sgt. Claypole was able to take this man into protective custody with minimal use of force and enabled the subject to obtain the professional help needed.
Sgt. Claypole placed himself in harms way without the aide of immediate assistance in his attempt to save human life and minimize opportunity for others to be injured. Sgt. Claypole displayed courage and valor in earning this Life Saving Award.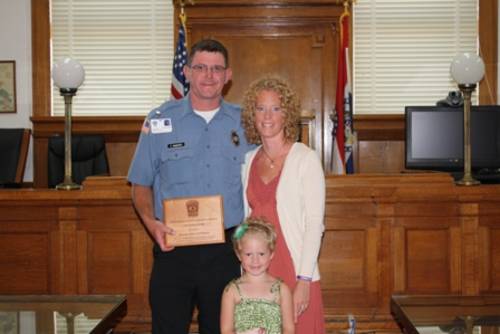 Ed Maberry
On October 26, 2011 Mr. Maberry was working as Detention Officer in the Livingston County Jail. He was alerted to a male detainee flagging the jail camera and promptly responded to determine what the need was.
Ed entered an individuals pod and requested immediate emergency assistance as he saw a large male detainee hanging in attempt to end his life. Without concern for his own safety or assistance, Ed lifted this large man to relieve the pressure on his neck and potentially permit him to breath.
Ed was able to summons help from another male detainee to help until law enforcement and EMS could arrive.
The prompt and professional actions of Ed Maberry show both courage and Valor in saving human life. Ed is well deserving of this Life Saving Award.
Ed is now employed as Corrections Officer with the Missouri Department of Corrections.
---
Sandra Shermuly
Lieutenant/Jail Administrator Sandra Shermuly was working the jail on Christmas night in 2011 so that her co-workers could have the holiday off to be with their family.
About 11:45 p.m., Lt. Shermuly was notified a male detainee was flagging the jail camera and she responded to investigate. At that time of day the detainees are locked into their individual cell pods out of view of the jail cameras.
Lt. Shermuly found a 160 pound male hanging in attempt to end his life. Lt. Shermuly requested immediate help and entered the mans cell where she lifted the uncooperative detainee in attempt to relieve pressure on his neck and permit him to breath until assistance arrived. Two male trustees heard Sandra's request for help and they entered the cell pod to assist her in getting this man down and restore his breathing.
Lt. Shermuly's prompt and professional actions, without concern for her own safety, show courage and valor in saving human life. Sandra has more then earned this Life Saving Award.
Sandra is now employed with Morningside Center in Chillicothe.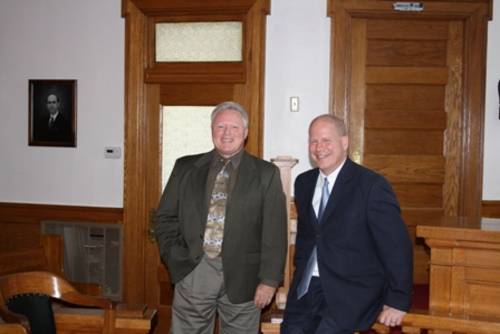 Sheriff Cox had met with Circuit Judges R. Brent Elliott and Thomas Chapman quite some time ago in joint discussion on recognizing the above 4 employees for their actions in late 2011. We agreed to have a formal awards ceremony which created the unforeseen difficulty of scheduling a time when everyone could be present. We wish to also thank the Administration at the Missouri Department of Corrections and Morningside Center as they were extremely helpful in coordinating the surprise ceremony and having their new employees present. Family and friends were also notified with many being able to witness this presentation.
Circuit Judge R. Brent Elliott and Judge Thomas Chapman provided detailed information to the audience regarding the individual acts each person took in saving human life. The judges along with Sheriff Cox then presented each person with a plaque recognizing the incident.
Associate Judge James P. Valbracht, Presiding Commissioner Eva Danner-Horton, Prosecuting Attorney Adam Warren, and Recorder of Deeds Kelly Christopher were also present. Mr. Bishop was present to help honor and thank Deputy Ahal for his actions.
We are proud of Lt. Shermuly, Sgt. Claypole, Deputy Ahal, and Detention Officer Maberry and hope you also commend these people for their dedication and professionalism.
The only unfortunate side in this story is 3 of the 4 recognized have recently accepted full time employment outside the LCSO in the need to better provide for their family through better pay and benefits then Livingston County can currently provide our employees.