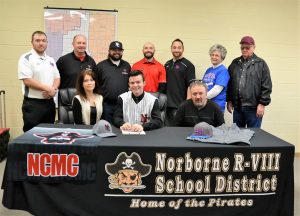 TRENTON, Mo. (Press Release)– The Pirates baseball team has signed left-handed pitcher Evan Glaze, a senior at Norborne High School, as part of their 2017 recruiting class.
Glaze has had an excellent prep career pitching for Lexington-Norborne, as Norborne is forced to co-op for baseball with Lexington due to low overall enrollment numbers.
In three years Evan has earned All-Conference recognition and twice he has earned All-District honors.  During his junior baseball season, Glaze earned Most Valuable Player.
"Evan provides a nice lefty arm for our incoming recruiting class.  He has projectable size and finding quality left-handed pitching is never easy," commented NCMC Head Coach Donnie Hillerman.
"I have been very impressed with Evan's overall character.  He has visited on multiple occasions and really seems to have his athletic and academic goals in focus," remarked Assistant Coach Ryan Suttenfield.