CARROLLTON, Mo.– Green Hills Regional Planning Commission (GHRPC) hosted the third Local Advisory Committee meeting yesterday in Carrollton to discuss the proposed actions to address selected issues and concerns in the area.
Click play below to listen to KMZU's Elizabeth Orosco visit with Randy Railsback, Green Hills Regional Planning Commission executive director.
Using watershed maps and an action step matrix, attendees caucused to identify priority sub-watersheds in the GHRPC area.
Priority issues or concerns identified at the Local Advisory Committee in December 2015 included flooding, increased runoff, levees and flood control, sediment, stream bank stability, water quality and implementation and enforcement of construction practices and BMPs.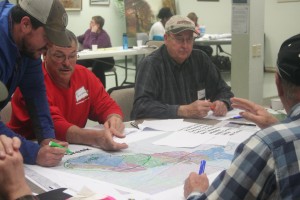 The group addressed locations where work should occur, stakeholders and connections, actions that can lead to the goal, strategies and tools available, and a resource list of people, funding sources and other key information.
Meeting attendees pinpointed several issues in specific portions of the region's watershed, and suggested controlling flow of water above, to eliminate issues in the lower regions.
Randy Railsback, Green Hills Regional Planning Commission says this is a collaborative effort to work with both the urban and the rural portions of the watershed to determine what can be done to address priority issues.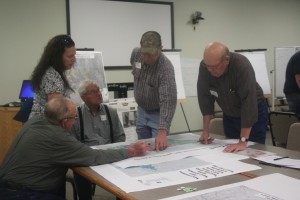 "This particular watershed encompasses Carroll county, Lafayette county, which is mostly rural, but also most of Kansas City," said Railsback. "So we are all contributing to what is going into the Missouri River, so that's why this is unique because we are trying to work hand in hand with the urban side as well."
Railsback says the farming community is often viewed as a large contributor to chemicals and pollution in the river, but citizens outside the farming community are major contributors also.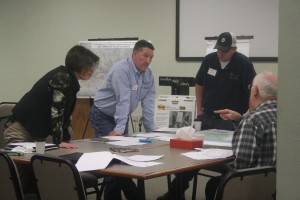 "The fact is that everything we do, whether you have a yard, a parkinglot, or anything else, still winds up going down the river," he said. "What we throw on the golf courses… on the yards for fertilizer, often is ten times as much that is going on a crop field. Anyone that has anything to do with the watershed, whenever it rains and lands on our property, where is it going and what is going with it when it goes down the ditch to the stream, and to the river?"
Railsback adds that citizens can be conscientious of their role in the pollution of local water sources by becoming aware of what they contribute to the issue.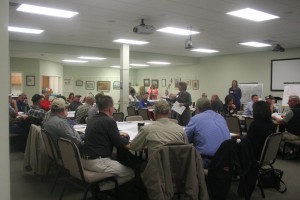 "If you go, for instance, to your local store and decide you want to put some fertilizer on your yard," he said, "how much do you really need, and is it going to be put on just before what could be a big rain event, which means it's going to wash off more than soak in. Whatever you do as a citizen, when it rains, where is it going, and how much is it?"