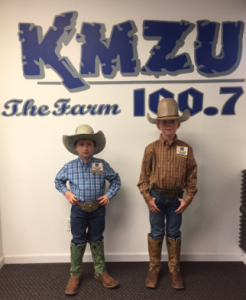 CARROLLTON, Mo.— Years of dedication, mixed with lots of passion, has paid off for two local boys who will be competing in Las Vegas next month for a chance to earn the title of the best mini bareback riders in the world.
Tyler Acree, 8, of Polo, Mo., rides in the memory of his uncle Jim, who roped calves and did team roping. Acree began riding at the age of two and progressed quickly. He started his rodeo career with the MO-KAN youth rodeo association doing barrel racing, pole bending, goat tail untying, and mutton busting.
In 2015, he placed 17th in the world in mutton busting at the world finals in Abeline, Texas. He has participated in the American Royal Youth Invitational for the past four years and was the Champion of the American Royal in mutton busting this year. Tyler also loves to take care of his goat herd on his farm an is considered an "all around cowboy." He says he loves and is thankful for this sport.
"I'm glad we get to do this good sport and it was made for us to do," he said.
Acree says riding is fun, but he understands the hours of practice, hard work and persistence it takes to be the best.
"This is a fun thing we get to do, but it takes lots of strength, balance, and you have to work out and get flexible."
Dalton Gatrel, 9, of Cowgill, has been riding horses since he was six weeks old. His mother did trick riding, so Gatrel grew up attending lessons his mother taught at Double Trouble Trick Riders. He rode his first sheep at age three and has improved his skills immensely. Last year Gatrel split first place at the American Royal Youth Rodeo and has been working diligently on mini bareback riding this year. A straight-A student, Gatrel has a waiting list for pony training.
He says he has no plans to ever stop riding.
"I'll do it for as long as I can still do it," he said.
One of his goals is to become one of the best in the world, a feat that is not far away with his upcoming trip to Las Vegas, but Gatrel's dreams are clear.
"I want to make it to the NFR where I can ride big horses and be one of the best in the world."
The two boys will be in Las Vegas December 1st – 4th, and are continuing to fundraise for their financial goals as well. For both boys and their families to attend the event in Vegas, it will cost roughly $6,000 total. They are raising money by selling pony they trained, running a concession stand at an auction, and will be having a boot drive intheir hometown. They are also reaching out to sponsors to partner with.
They have set up a Facebook page, Tyler Acree and Dalton Gatrel – Mini Bronc – Road to Vegas, as well as a GoFundMe page, which as of today, has reached $145 of its $6000 goal.
The duo would like to thank their current sponsors, coaches, fans, and everyone who has supported them in this journey, and say they are excited and looking forward to December.