A Higginsville resident, 82-year-old Louis Dwight Lashure died Monday, March 30.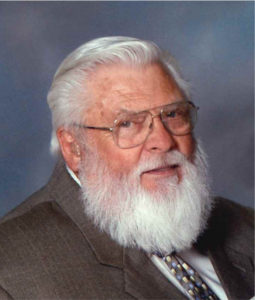 Funeral arrangements have been entrusted to Hoefer Funeral Home. A private burial will be held at the Veterans Cemetery. A celebration of his life will be held at a later date with full military honors.
In lieu of flowers, memorial contributions may be made out to Central Christian Church – Window Restoration Fund and sent to Hoefer Funeral Home in Higginsville.
Born Wednesday, February 23, 1938 in South Gate, California, he was the son of the late Louis Melvin Lashure and the late Idabelle Lashure (Willey). He was the husband of Patty Lashure (Goetz) marrying October 12, 1985 and enjoyed 35 years of marriage. She survives of the home.
Lou attended high school in the Los Angeles, CA area and on his seventeenth birthday joined the United States Navy. He spent eight proud years in the service as a Seaman and Electrician's Mate Fireman, serving on the USS Dixie. After the Navy Lou served in law enforcement off and on throughout his life but found his calling as a truck driver. He drove trucks for the rest of his career. Lou loved playing Santa Claus to all the children in Lafayette County for so many years. It would bring him so much joy to see all the kids lined up to tell Santa what they wanted for Christmas. Lou could go from an ornery and cantankerous old man to a sweet and gentle "Santa" just by seeing the Christmas twinkle in a child's eye. Making children happy was one of his greatest accomplishments.
Lou enjoyed woodworking and traveling. Patty and him enjoyed many trips together; he especially loved the ocean. He was a proud member of the American Legion Post 223, and a member of the Central Christian Church in Higginsville.
Surviving are his wife Patty Lashure of the home; one son, Louis Mark Lashure of Idaho; two daughters, Suzanne (Ron) Wagstaff of Utah, Michelle Lashure of Florida; one step-son Douglas Brockert of Higginsville; one sister, Carol Potter of South Carolina; one daughter-in-law, Lorrie Piercy of Odessa, MO; many grandchildren, great-grandchildren, and great-great-grandchildren.
He was preceded in death by his parents; one sister, Joann Hines; one step-son, Michael Brockert; and one grandson, Matt Wagstaff.