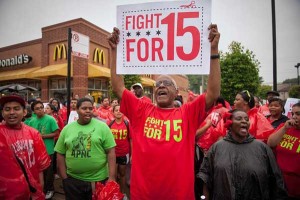 SAINT LOUIS, Mo. — Fast food workers in Missouri joined low income employees in the U.S. for one of the largest national strikes in history.
Frances Holmes, a McDonald's employee in the St. Louis area, participated in the nationwide strike Tuesday, November 10. Holmes said her $9.00 an hour wage is unlivable.
"Some days I don't eat because I can't afford food," said Holmes. "When I pay my rent, sometimes I have about $11 left. This month I had to borrow a dollar to pay my rent."
Workers from other low-wage industries, including childcare, home care and farming, went on strike Tuesday to protest low incomes in support of the "Fight for 15" campaign.
Democratic front runners including Hillary Clinton and Bernie Sanders have made income inequality part of their campaign, while Republicans say it would hurt job growth and increase inflation. Still, Holmes claimed something needed to be done.
"I live in a boarding house and it's very difficult, but I can't afford a one-bedroom apartment. There is no middle class. It's rich people and poor people," Holmes explained.
The "Fight for 15" is calling for the national minimum wage to be $15 per hour. Many supporters have pledged time to visit with lawmakers and local governments to achieve the end goal.