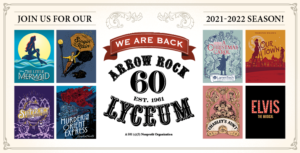 ARROW ROCK – The Lyceum Theatre is preparing for its next show. Artistic Director Quin Gresham reflects on the turnout from the season opener, "The Little Mermaid."
Now, the theatre is hard at work putting together it's showing of "Singin' in the Rain," the stage adaptation of the classic movie starring Gene Kelly and Debbie Reynolds. For those who may be unfamiliar or need a refresher, Gresham provides a synopsis.
If the plot doesn't draw you in, maybe some of the special effects will.
One of the greatest special effects, Gresham says, lies within the ability of the cast.
Gresham takes the time to tell KMZU more about the cast and crew who are helping the show come to life.
Gresham shares what he thinks the most powerful element of the show is.
Anyone can enjoy "Singin' in the Rain" when it opens to the public Thursday. Gresham explains how to make sure you secure your tickets.