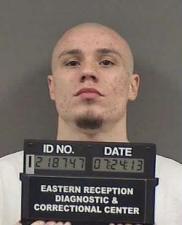 MACON, Mo.- The Macon County Prosecuting Attorney's office filed charges against a Macon man who is accused of a felony sex crime following an incident at an abandoned residence Saturday, July 14, 2018.
According to court records, Steven W. Spurlock, 27, was charged with felony second-degree rape, misdemeanor second-degree sexual abuse and misdemeanor first-degree sexual misconduct.
A filed probable cause statement indicates that an officer with the Macon Police Department responded to an abandoned residence in the 400 block of Fourth Street in the early morning hours Saturday, July 14. Upon arrival, two unidentified subjects and the reported victim stated that a rape had occurred and the suspect ran inside the home of a neighbor in the 400 block of Rollins Street. Authorities made contact with Spurlock which the witnesses and the victim confirmed was the correct subject.
Upon further investigation it was determined that Spurlock was unknown to the three subjects including the victim and followed them to the abandoned residence from the downtown Macon area. Spurlock allegedly followed the subjects into the residence where he began inappropriately touching and kissing the reported victim without consent. Spurlock then forced himself on the victim and continued engaging in sexual intercourse while threatening the other two witnesses. The witnesses and victim all stated they felt fearful of Spurlock and felt as though they could not leave.
A warrant was served yesterday for the apprehension of Spurlock and bond has been initially set at $10,000 cash-only. A motion for change of judge was also filed yesterday in Macon County Circuit Court by the lead Prosecuting Attorney. Future court dates are currently pending.