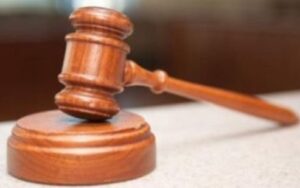 MOBERLY, MO – A bond reduction hearing was scheduled Tuesday for a man accused of child endangerment and drug possession in Randolph County.
A probable cause statement says, Jeremy Hann, 29, of Kansas City, brandished a firearm toward a number of juveniles at a retailer in Moberly, Monday, prior to a pursuit. The chase ended in Columbia where spike strips were used to stop the truck, which had been reported stolen. A search of the vehicle led to the seizure of suspected methamphetamine, and a BB hand gun. Hann also had warrants out for his arrest, and was believed to have been driving with no license.
Hann is charged with child endangerment stealing a motor vehicle, resisting, unlawful weapons use, and drug possession. Bond was set at $25,000. A reduction hearing is October 5.