CAMDEN COUNTY, Mo. – The Missouri Water Patrol is investigating a fatal boat sinking in Camden County on Friday.
Witnesses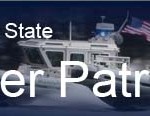 saw a boat sink with a person on board around 11:15 a.m. at the 18.5 mile marker of the main channel of the Lake of the Ozarks. The operator, Rick L. Steffey, 48, of Homer Illinois, drowned while attempting to swim to a break water.
The watercraft will have to be recovered before the cause of the sinking can be determined.