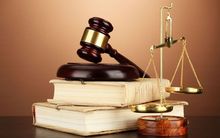 HOWARD COUNTY, Mo. — The Howard County coroner took an unusual step this week when he asked a court to investigate the death of a Glasgow boy who passed away in December of 2016. 17-year old Kenneth Suttner took his own life on December 21, 2016 after being subjected to years of bullying at his school and place of employment.
According to a probable cause statement, 21-year old Harley Branham of Fayette has been charged with felony involuntary manslaughter due to harassment. She is the manager of the Dairy Queen Stuttner was employed at and has been identified as "the principal in the cause of death."
Special Prosecutor April Wilson, who was appointed by Howard County Prosecuting Attorney Stephen Murrell, found that Dairy Queen was negligent in their provided training for employees in harassment prevention and resolution. Wilson also found the Glasgow School District did follow their policies and procedures, but were negligent in preventing bullying which directly led to Suttner's death.
This is a developing story and a court date has not yet been set for Branham. Check KMZU.com for future updates.